January is Bath Safety Month: What You Need to Know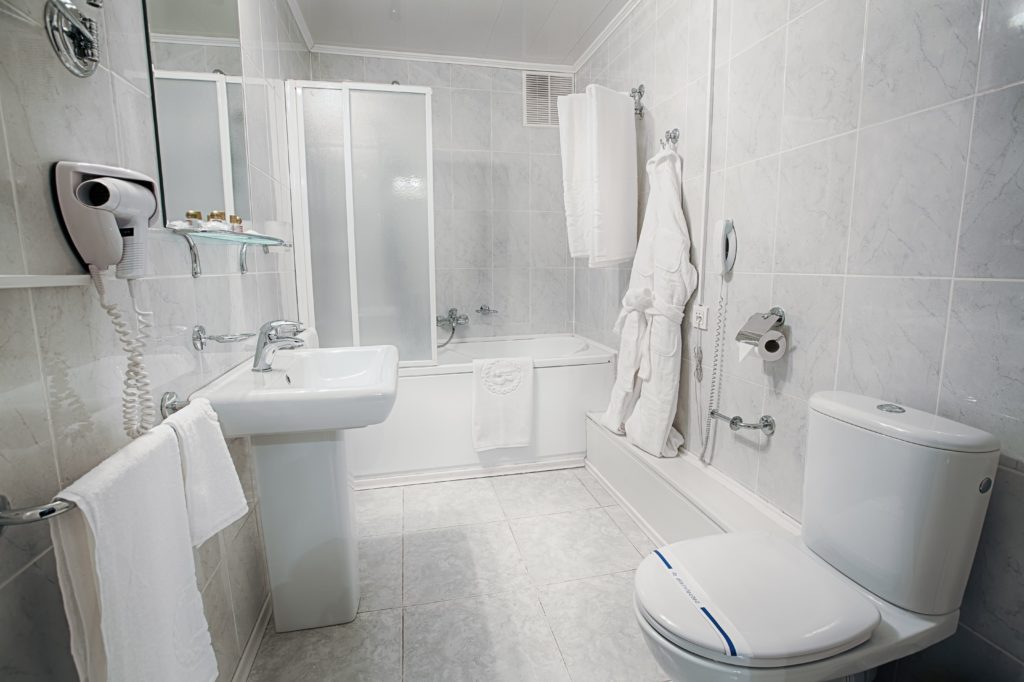 "Dangerous!" "Falling hazard!" "At risk!" … these are not words someone wants to hear about her home. Usually those words are associated with the potential risks outside—especially for seniors who tend to be more fragile. But what about dangers lurking inside the home?
The bathroom is the most dangerous room of the house. This is true for small children and adults, but especially for seniors. Here are just a few of the safety hazards that could be in your bathroom:
Sharp razors are a cutting hazard when they are left on the side of the tub or the counter.
Tap water can be scalding hot and cause burns.
Slick floors and hard counter tops make a risky obstacle course!
Toilets with no safety railings/handles pose a risk to unsteady seniors.
Cleaning products can be a poisoning risk— and not just for children!
Outdated medicine (or the wrong medicine) can be dangerous if a senior misreads the label.
So what's a family to do?
Bathroom Safety for Seniors
Be Safe with Sharp Objects
One of the simplest changes you can make is to always put the lid back on your razor, or put your razor in a safe place when you are done shaving. It may seem like a small thing, but it makes a big difference when your senior loved one is searching for his glasses at 7:30 in the morning and he brushes across the top of an uncapped razor.
Check Inside the Cabinets
Another simple change is to make sure all your medicine and cleaning supplies are easily identifiable. A good way to prevent accidental poisoning is to go through the cabinets once or twice a year and check expiration dates on your medicines and chemicals. Check your local community for a "Tox Drop" or toxic disposal location.
For At Home Care customers in Manhattan, Kansas, here are resources for disposing of medicines and chemicals:
Toxic Chemicals, Cleaners, Paint, etc: 
Medicine Disposal:
Protect from Hot Water
Burns from hot water are fairly common. If your senior's household hot water tends to run "surface-of-the-sun" hot, be sure to test the water temperature before their bath or shower. To do this, try holding your hand above the water stream before sticking it under. You will be able to gauge the temperature fairly well. You can also test it with the back of your hand or elbow.
A long-term solution is to turn down the temperature of the water heater so that the water cannot reach a scalding temperature. Many experts recommend that you set your water heater to 120 degrees Fahrenheit (a big change from the default 140 degrees Fahrenheit temperature setting) to help prevent burns.
It's easy to turn down the temperature… here is one website with easy directions. Turning down the temperature can make it much harder to be burned and you'll likely save on the energy bill too!
If you or your senior do get burned, do not use ice or cold water. Run cool to lukewarm water over the burn. If he begins to have chills or if he is scalded in an area larger than three inches, seek medical attention.
Install Bath Safety Bars
One of the most-Googled questions about bathroom safety has to do with safety rails. It's always a good idea to have grab bars or safety rails. But not everyone can have bars installed immediately. So here are a few safety tricks to try in the meantime.
Add non-slip stickers for the bottom of the tub. They are cute and inexpensive and are available for purchase from Walmart, Amazon, or your local grocery store. For a less permanent non-slip grip, tub mats with suction cups work well.  (In a pinch, you can put a towel in the bottom of the tub to prevent slipping; as long as there is water running on the towel it should provide a mostly non-slip surface.)
Here are a  few life hacks to follow after exiting a hot shower:
Keep rubber-backed floor mats on the bathroom floor so that stepping out of the tub is not a hazard.
Dry the excess condensation from the floor.
Keep the fan going for 15-20 minutes after leaving the bathroom.
Toilet safety railings are also important. "People over 85 suffer more than half of their injuries near the toilet."
There are as many different safety railings for seniors as there are styles of bathroom. They run anywhere from $20-$200. Our handy At Home Care caregiving team can provide a free safety assessment to help you choose the right safety rails, and can even help with the bar installation. Contact us to learn more.
Peace of Mind
There are so many different home improvements and products on the market. Not everyone has the time to research every single product or improvement and there's not always a guarantee these things will actually help your unique senior.
At Home Care offers a free home safety assessment for those in our service area. Our experienced team can evaluate the home for potential risks unique to your loved one. Figuring out how to make daily living as risk-free as possible for your aging loved one can be stressful. Let us help! Contact us today for a free in-home safety assessment.