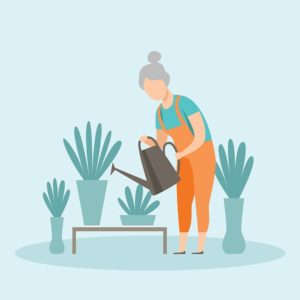 Exercise is so important, yet many of our seniors lead very sedentary lives. Without exercise, our seniors are at a higher risk of heart disease, high blood pressure, depression, and a host of other issues.
Thanks to our friends at ClearCare who have put together a wonderful easy-to-print guide to exercises that seniors can do at home. We hope you'll download it, print it, and help a loved one get some exercise!
They share this helpful information about the wonderful benefits of moving!
Exercise boosts oxygen levels, helps deliver nutrients to the tissue, and is great for the heart! The best thing about exercise is that the more a body moves, the more vitality a body has. It may take only a few work out sessions before your senior starts waking up with more energy.
Simple Indoor Exercises
Many exercises can be adapted for your senior's energy level and unique limitations. Since seniors are an at risk group, it is helpful for them to work out with an instructor or trainer. Group classes are also a fun, helpful option.
Great indoor exercises include:
Walking
Climbing steps
Indoor swimming
Balance exercises (while holding something stable). If you need suggestions on balance exercises, this is an excellent walk-through:

Light bodyweight exercises like squats
Exercises like this will improve balance. Seniors often fear falling and injuring themselves. Even a minor stumble can result in a bad injury for a senior. These exercises will help renew confidence in things we take for granted like walking and stairs.

Best Seated Exercises
Not every senior is able to do standing exercises. Some have limited mobility and others are completely confined to their chairs. A good stretch and some light seated exercises can greatly lift the mood of even the most sedentary of seniors. For the more ambitious senior, weights can be  added gradually to the wrists and ankles. This will build up muscle strength and endurance.
Great Seated Exercises (with videos!)
Ankle and wrist rolls

Arm circles

Single leg calf raises

Sit and stand motions

Seated hip marches

Seated torso twists

At Home Care Tips
Exercise can seem intimidating to seniors. Especially if your senior has arthritis or another illness that causes them serious pain. However, even short workouts have been proven to relieve joint pain. The mood boost alone will give your senior a healthier outlook on life. Encourage your senior to get active today!
P.S. Thanks again to our friends at ClearCare for providing the content for this post!
At Home Care provides expert services and peace of mind. Request a free consultation today to get started.