First the bad news: According to the CDC, "More than 100 million U.S. adults are now living with diabetes or prediabetes." (1)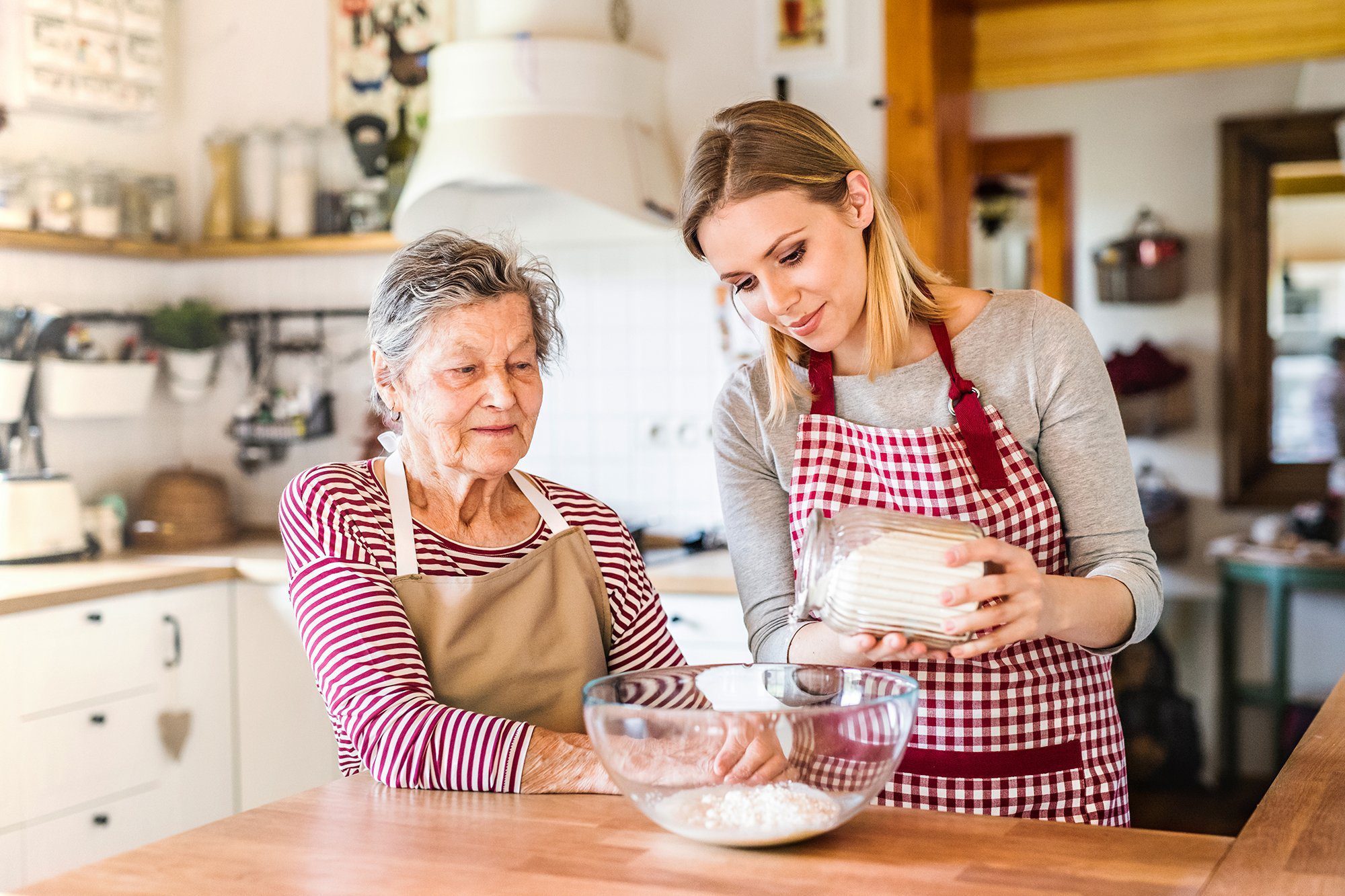 Cookies, candy, cake, pie, (and more) are a huge part of American holidays. It's how we show love to one another.
But now the good news: This Valentine's Day, you can make these sweet, sugar-free treats for your loved one. Better yet— have a baking day and spend time making cookies together!
These cookies won't crash blood sugar, but they're a melt-in-your-mouth combo of buttery almond flavor and berryliciousness.
For Valentine's Day, why don't you have a baking party with your favorite senior loved one? We suggest you make the dough the night before and chill it overnight, then get together to roll out the cookies and cut them. Make the icing together. While they cool, do the dishes, and before you know it you'll be enjoying delicious, healthy cookies together!
What Is Truvia and Where Do I Find Almond Flour?
If you're curious about some of the unique ingredients found in this recipe, scroll down for an explanation on why they are used and where to get them.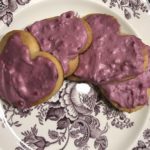 Print Recipe
Sugar Free Valentine's Cookies With Pink Berry Schmear
Ingredients
Cookie Ingredients
6

Tablespoons

Butter

at room temperature

½

Cup

Truvia

1

Egg

1

Teaspoon

Vanilla Extract

½

Teaspoon

Almond Extract

1 ¼

Tablespoons

Almond Flour

4

Tablespoons

Coconut Flour

½

Teaspoon

Baking Powder

¼

Teaspoon

Salt
Schmear Ingredients
½

Cup

Cream Cheese

at room temperature

¼

Cup

Mixed Berries (fresh or frozen)

2

Tablespoons

Butter

at room temperature

2

Tablespoons

Swerve or Truvia
Instructions
Cookie Directions
Mix together Butter and Truvia until creamy. (Use a stand mixer for easiest preparation!)

Add Egg and extracts, and beat on high speed until fluffy.

Add all remaining ingredients and stir.

Wrap cookie dough in Saran wrap. Refrigerate. Overnight is best, but 3-6 hours works well too.

Preheat oven to 350℉. Line cookie sheet with parchment paper.

Sprinkle a small amount of almond flour over the counter and rolling pin. Roll out dough to ¼ inch thick. Use cookie cutters for shapes.

Bake until edges are golden brown, 10-11 minutes. Let cool 5-10 minutes.
Schmear Directions
Warm berries in microwave. About 30-40 seconds depending on if they are fresh or frozen.

Mix together Cream Cheese, Butter, and Sweetener until smooth.

Mix in berries, mashing them in as well as possible. Make the "schmear" as smooth as possible.

Spread cooled cookies with "schmear" using a knife or spatula

Refrigerate finished cookies for at least an hour or until topping has set.
Quick Note On Ingredients: Why These Cookies Are Delicious AND Healthy!
There are three ingredients in these cookies that aren't found in a traditional sugar cookie recipe. Truvia, almond flour, and coconut flour are all gentle on the blood sugar, but what are they?
Truvia is a sugar substitute. It isn't as clean as pure Stevia (a plant based sweetener) or honey or maple syrup, but it is one of the closest tastes to real refined sugar on the market. Bonus: It's easy on the blood sugar and does not have any adverse side affects. You can usually find Truvia in your local grocery store next to the refined sugar. Swerve is another good option that can be substituted cup-for-cup for table sugar.
Additionally, Truvia does NOT contain any of the normal "diet" sweeteners like aspartame, saccharin, or sucralose. These are the normal "sugar free" sweeteners available in diet soft drinks and foods, but they have actually been linked to cancer and weight gain– in spite of their claims to be "diet friendly." (Source) Thankfully, Truvia or Swerve are natural sources of blood-sugar friendly sweetening that are NOT linked with all of these negative side-effects. 
Almond and coconut flours are not grain flours that have extracts added to them. They are exactly what they say they are: finely ground almonds and coconut. Because so many people are going gluten free these days, alternative flours are much easier to find in your local grocery store's baking aisle. They even have banana flour now!
Because these cookies use alternative sweeteners like Truvia, and no grain flours, they are much lower in carbohydrates and higher in protein than most cookies! You can feel great about sharing these treats with your loved ones. They'll enjoy the taste without a sugar crash or high blood sugars.
Our loved ones who are watching their blood sugar don't need to give up the sweet treats they love. With a little creativity and some fun in the kitchen, you can make a delicious surprise this Valentine's Day!